STUDIO


LOST SOUND is a recording studio in Marrickville, Sydney. The studio is part of the Golden Retriever complex on Faversham Street. Our control room is sunlit and the tracking space is also filled with natural light.

Lost Sound primarily services independent musicians to track and/or produce records at an affordable rate.


RATES


$320/day for full use of control room + booth, or
$500/day to use the live room in addition to control room/booth (see details below).

The reason for the additional cost of the live room is that it needs to be hired separately. This helps keep costs down for people who don't need a big tracking space on every session.

You may also choose to bring in your own engineer, and I will be available to assist the session at no extra cost. The studio prices remain the same in this case, plus the cost of your engineer, at their behest.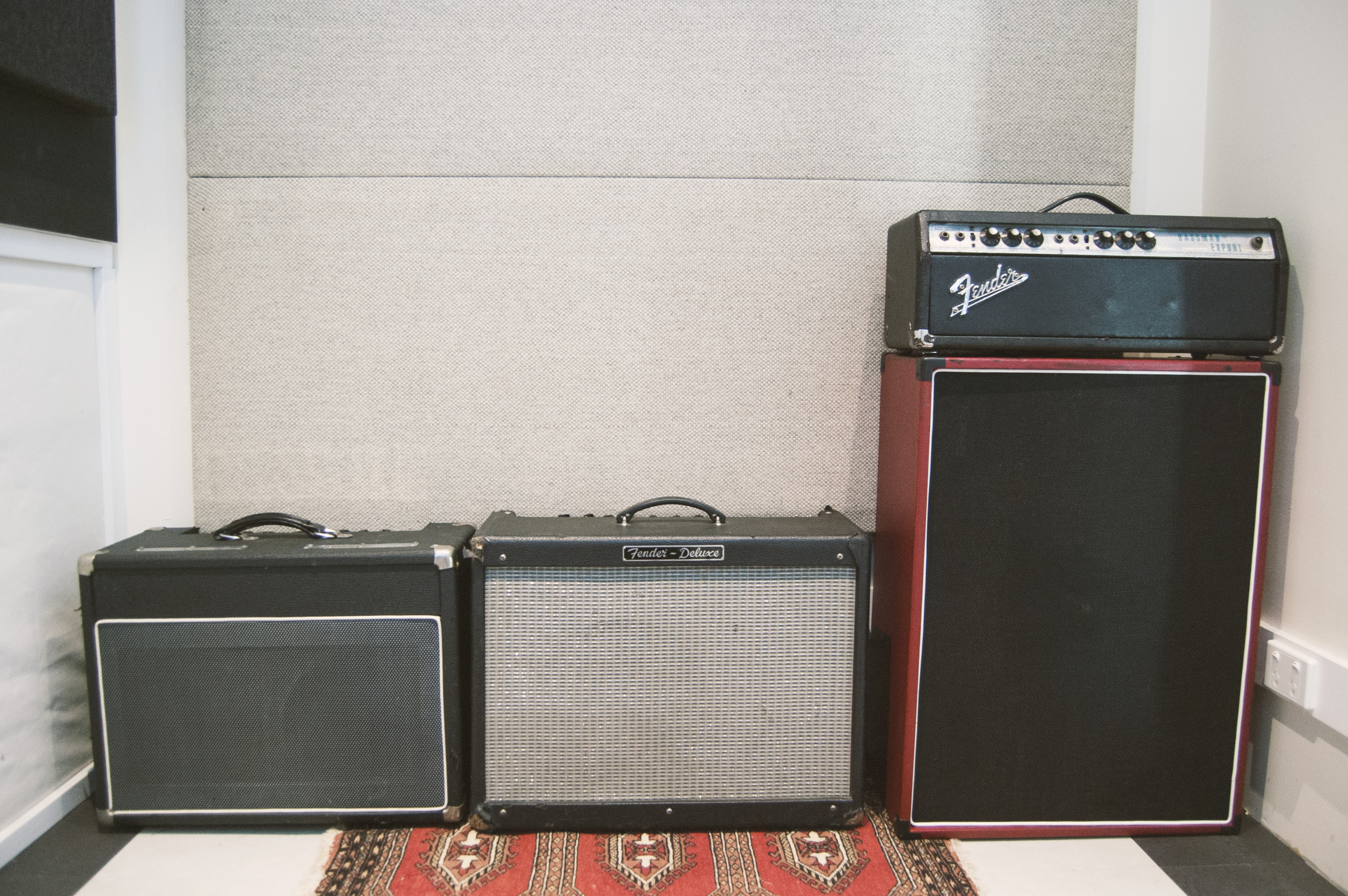 LIVE ROOM


There is a considerably large live room available for live band tracking, orchestral recording etc. It sounds great. See below for photos and details:




TAPE


We run an Otari 1/2" tape machine in addition to digital recording. Tape is free to use, unless you decide you would like to keep the tapes, in which case it is priced at $110 per half hour reel. On average, we recommend two reels per session so you are looking at an additional cost of roughly $220 to keep your session's tape.



EQUIPMENT
Mixing Console

Trident 65 (20 channels)

Tape Machine

Otari MX5050 1/2" 8-track

Computer Recording

Apogee Symphony
Pro Tools 10
Logic Pro X

Preamps

Siemens V72 (2)
RFT RFZ East German V781 & V741 (6)
Sebatron vmp4000e (4)
Sytek MPX-4A (4)
Quad Eight AM-10 (2)

Outboard Effects

Alesis 3630 Compressor
API 2500 Bus Compressor
dbx 163 Compressor (2)
Fostex 3180 Stereo Spring Reverb
Pultec EQ Clone Pair (2)
FMR Really Nice Compressor
FMR Really Nice Leveling Amplifier
Retro STA Level Tube Compressor
Roland RE-101 Space Echo
Smart C1 Bus Compressor
Smart C2 Bus Compressor
SPL Transient Designer

Monitoring

Event Opal
Neumann KH120A
Roland RH-300 Headphones

Microphones

Audio Technica 4050
Audio Technica Pro37 (2)
Beyerdynamic M201
Beyerdynamic M160
Beyerdynamic M88
Beyerdynamic MC930 (2)
Neumann U87 (Original)
Røde NT1A
Schoeps CMC5U MK4 (2)
Samson Q Kick
Sennheiser 421 (2)
Sennheiser E906
Shure SM57 (2)
Shure SM7B

Please ask if there are any additional microphones or effects that you are specifically after for your project as I may be able to organise their use for your session.

Misc.

Radial JDI (2)
Triton Fethead
CLIENTS
Abigail & Daisy
Adrien Gaitan Castaneda
Adults
Angie
Assad
Avoid Island
Bed Wettin' Bad Boys
Black Turtles
Camperdown & Out
Clean Shirt
Club Weld
Crane Games
Cured Pink
Deborah Cooke
Dead Farmers
Display Homes
Dive Bell
Dog Dick Pink
Dream Good
Edwin Morehead
Ela Stiles
Emma Swift
Family
Forakt
Garry David
Golden Scalpel
Highfalutin'
Hilary Santa Maria
The Holy Soul
Hotel
Housewives
Jon Dory
Jordi White
LA Suffocated
Married Man
Nina Renee
Only The Lonely
oWo
Pallet
Pete Foxe
PIlot Herge
Knitted Abyss
Kris Carter
The Rangoons
Raw Prawn
Robyn Hitchcock
Shrapnel
Slim Set
Tafeworm
Thorax
Tim & The Boys
Tom Ridgewell
Tuff Whippet
The Vacant Lot
Victoria
Video Ezy
Whipped Cream Chargers
CONTACT/BOOKING

David

dhakerman@gmail.com



︎︎